Literacy Planner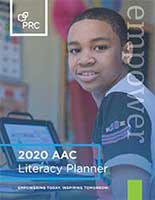 Introducing the 2020 AAC Literacy Planner. This resource is designed to help you plan reading instruction for young, emergent AAC communicators using popular children's books. Inside you will find resources and tools to support you as you work with your students.
For each book, you will find targeted words to teach, and an example of how to introduce the book and words to your students, along with activities to provide lots of practice. There is even a blank template so you can create your own lessons with your favorite books!
If you would like a printed version of the Planner, contact your regional consultant.
Active with AAC
Learning to model on an AAC device can feel overwhelming sometimes. What do we play? What should I say? Each month we will post ideas for different activities AND what you could say during the activity. The activities suggested will often be everyday toys and activities all children love. We'll even help you with things you can say and model while playing. Have fun, keep it natural, and get out there and start modeling!
---
 Arts & Crafts
The colder weather means we have to move back inside, but we can still stay #ActiveWithAAC. This month let's take a look at what to model and do while doing arts and crafts. Pick a craft and have fun!
 Bug Hunt
 Balance Beam
 Board Games
 Bubbles
Rediscover a classic this month while getting #ActiveWithAAC! This month we are playing bubbles! Whether you play inside or outside, it's time to have some fun, get modeling, and get to being #ActiveWithAAC.
 Building Blocks
 Candyland
Get inspired this winter break by pulling out an old classic game: Candy Land! This classic, but simple, game is sure to get everyone talking!
 Cooking & Baking
 Dinosaurs
 Dress Up
Take a break from reality this month and get #ActiveWithAAC while playing dress up! This is your chance to pretend to be someone else, but make sure to keep modeling language while you play.
 Hopscotch
 Nature Scavenger Hunt
 Obstacle Course
Looking for ways to model and teach words on your AAC device? Each month we post new resources, including an activity with smart charts and puzzle supports, for more practice. Examples of two and three word phrases to model for the month's activity are also included.
---