Literacy Planner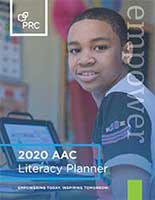 Introducing the 2020 AAC Literacy Planner. This resource is designed to help you plan reading instruction for young, emergent AAC communicators using popular children's books. Inside you will find resources and tools to support you as you work with your students.
For each book, you will find targeted words to teach, and an example of how to introduce the book and words to your students, along with activities to provide lots of practice. There is even a blank template so you can create your own lessons with your favorite books!
If you would like a printed version of the Planner, contact your regional consultant.