AAC encompasses a wide range of nonverbal communication methods, from sign language and picture boards to mobile device apps and sophisticated, dedicated speech-generating devices (SGDs).
A major advantage of SGDs is that these devices allow an individual to say and play with words. By doing this, learners can acquire new words and language and the listener is able to understand exactly what is being expressed.
In addition, there is evidence that pairing the communicated word with voice output may help children with auditory processing of spoken language.
For those physically unable to use the touchscreen, SGDs offer flexible access options including:
Thus, even children with severe physical disabilities can operate a life-changing AAC device.
With the power of communication, many AAC users enjoy full and productive lives, communicating spontaneously wherever and whenever they want.
For children who are learning language for the first time, it's important to choose the right language, or learning method, that's right for them, based on:
As your child continues to learn and grow, there are additional opportunities available to expand his or her reach. Learn more about The AAC Language Lab and Realize Language.
Who Benefits from AAC?
Any person with a disability where it's difficult for them to communicate may benefit from AAC. Some people need AAC only for a short time, while others may use it throughout their lives.
AAC allows an individual to express their needs and wants, and more fully participate in decisions that affect their lives. AAC also benefits family members and other significant others, providing a way for them to more fully communicate with their loved ones.
Who Uses AAC?
Many different AAC methods are used by people of all ages with various physical or learning difficulties.
How Do AAC Devices Work?
Speech-generating devices, or SGDs, produce electronic voice output, allowing the individual to communicate. These portable electronic devices allow him or her to select letters, words, and messages, alone or in combination, to be spoken aloud in a pre-recorded or computer-generated voice (text-to-speech).
When an individual is unable to use their hands to access the device, they are still able to generate speech using one or more alternate methods:
Eye tracking, where the user looks at the device which registers where the eyes rest;
Head pointing, where a reflective dot is placed on the user's head which the device registers as the user points his/her head at the screen;
Joystick; or
Switches, which can be activated by just one body movement to push to navigate through the device. Activation of the switch(es) (e.g., by knee movement, head movement, eye blink, etc.), lets the individual scan through words on the screen.
The speed and pattern of these methods can be customized to accommodate the user's age, familiarity with the device, etc.
AAC Devices & Everyday Family Life: 4 Keys to Success
Helping your child become used to and familiar with the device is critical to their overall success with the device. Following are a few "keys to success" to keep in mind as you and your child begin working with your SGD:
Keep it Handy: Children will spontaneously use their AAC devices if it's charged, turned on and accessible. DO NOT allow your child's device to be left in a backpack or put away in a closet. Make sure the device is always available, whether mounted on a wheelchair or nearby on the kitchen table or a night stand.
Keep it Fun: Encourage device use during activities that are meaningful and enjoyable. However, don't push too hard or too fast; you don't want your child to see the device as something that makes life harder.
Keep it Interesting: Follow your child's interests and passions. This will help to expand his or her vocabulary most easily.
Keep it Up: Becoming proficient with AAC requires regular device use and practice. Encourage your child to use the device and give them the support and professional help they need to achieve success.
What is a Speech-generating Device?
Speech-generating devices (SGDs) are defined by the Centers for Medicare and Medicaid Services as, "durable medical equipment that provides an individual who has a severe speech impairment with the ability to meet his or her functional speaking needs."
What they are, however, is life-changing.
AAC devices not only have robust language systems to allow for effective and efficient communication, but they also provide alternative ways to select letters, words and messages.
For example, an individual can make a selection on an SGD by:
Using their eyes
The tilt of the head to activate a switch
Using a finger with the help of a keyguard, to isolate the keys
A major advantage of SGDs is that the device allows the individual to say and play with words, which helps the process of acquiring new words and language. In addition, pairing the communicated word with voice output may help the child with the auditory processing of spoken language.
Why Use a Speech-generating Device?
Using an SGD is different than using a communication app on a mobile device such as an iPad, as AAC devices are especially designed for the varying and specific needs of individuals with complex communication profiles. In some cases, an AAC device may be recommended even if a child has had some success using an app on a mobile device to communicate.
SGDs features:
A more robust language system
More flexible software
More durable construction
A larger screen size
Alternative access options
Meet Noah Trembly, long-time PRC user, Ambassador and advocate for others.
Accessing Your AAC Device
Users can work with their AAC device using a variety of access methods:
Eye gaze technology
Infrared sensing (head tracking)
Joystick and alternative mouse controls
Single and multiple switch control
Multiple selection methods can enable children with even severe physical limitations to use and communicate with their AAC device.
Eye Gaze Technology
Almost something out of science fiction, eye gaze is ideal for children and adults who needs hands-free and switch-free device access.
It works by continually tracking the movement of the user's iris – the center part of the eye – to give users full control of the device. Keys are "selected" by gazing for a specified period of time to generate speech.
Precise and accurate, eye gaze systems can be calibrated as needed for both children and adults, and works with most eyeglasses and contact lenses.
Easy to use and simple to set up, PRC's Look™ Eye Tracking System is the only system available where most users can make developer-grade adjustments themselves for maximum control and effectiveness.
Headpointing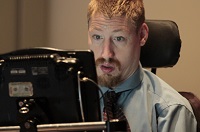 PRC's NuPoint® headpointing module is an effective access solution for those who have limited or no use of their hands.
Using optical sensors, NuPoint tracks a small reflective dot on the user's forehead, glasses or other convenient spot, allowing the user to control the device. Key activations are made by dwelling over the desired key. Additional movement settings, like vertical and horizontal controls, help customize control of the cursor to optimize the user's accuracy and ease of use.
NuPoint:
Requires no additional power or adaptors
Plugs directly into a dedicated port, eliminating loose or exposed connecting wires
Requires no special software
Joystick and Alternative Mouse Control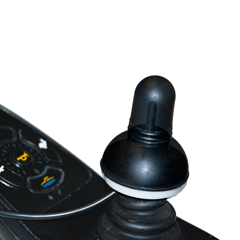 When direct (touch) access isn't possible, some users may opt to use a standard USB mouse or joystick.
Most standard USB mouse and joysticks work with PRC Accent® devices, though some extra equipment (available from PRC) may be required.
In addition, products such as the BJOY ring, available from PRC in either a wired and wireless option, has the added advantage of eliminating the need for multiple controllers.
Settings for an external mouse or joystick can be customized within the Accent software, according to an individual's need. Specific adjustments include:
How long it takes your device to register a selected location
How sensitive the movement of the cursor is to the movement of the joystick/mouse (both vertically and horizontally)
Whether a switch should be used in conjunction with the mouse/joystick
The appearance of the keys
Single and Multiple Switch Control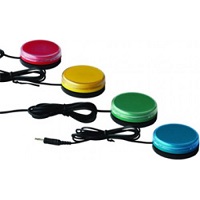 PRC devices are compatible with a wide variety of switches that can be activated by a hand, knee, elbow, foot or other body part to control a device.
Switch scanning allows the user to select the message by activating a switch at the moment the desired word, letter or symbol is highlighted.
Switches can be wired or wireless and adjusted independently to accommodate a broad spectrum of physical abilities.
We offer a wide variety of switches that can accommodate a range of motor abilities.
Types of scanning include:
1-switch scanning – an individual uses one switch that is activated (or released) when the desired key is highlighted.
2-switch scanning – an individual uses two switches at different access points. One switch generally "moves" the scan while the other switch "selects" the key.
What is a Language System?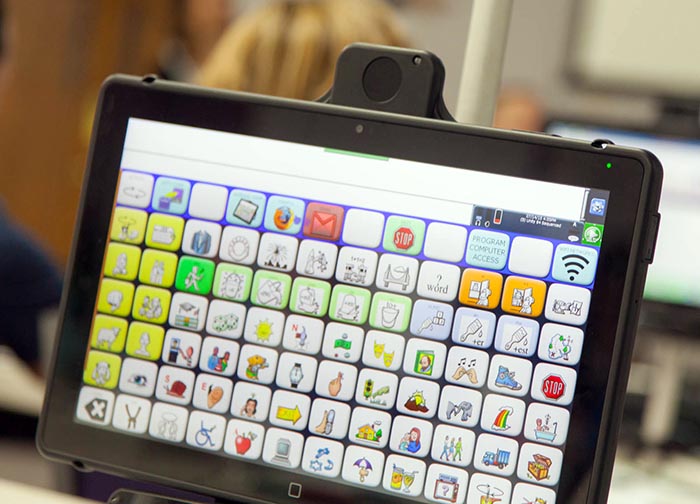 A language system is how letters, words, phrases and sentences are organized in the device's communication software. Some language systems rely heavily on the alphabet for communication; these systems typically are used by individuals who can spell their thoughts.
Other systems represent words and phrases with symbols or icons because many children are able to communicate before they are able to read and spell. Also, as vocabulary increases, combining symbols for words allows more vocabulary with fewer keystrokes.
Selecting the right language system is important. You want to choose a well-organized program based primarily on single words, with access to some whole phrases and sentences. Additionally, the program should contain core vocabulary, i.e., the words we use and reuse 80 percent of the time in our daily conversation.
Ideally, the vocabulary program should be:
Efficient
Powerful
Flexible
Give the individual the ability to be an independent communicator
The Ultimate Goal: Learning Language
Learning and using language effectively is the ultimate goal of AAC.
Providing children with single words and teaching them how to put those words together will lead to freedom of expression. Learning to say and combine single words and use word endings will enable your child to go beyond pre-programmed words and simple requests to being able to express personal thoughts, feelings, humor and emotions.
Many SLPs recommend selecting a language system that will allow the transition from learning first words to complex communication without changing communication systems or symbols over the course of language development.
When selecting a device and a language system, evaluate now only how a system can meet your child's immediate language and communication needs, but also how it can grow with your child.
PRC Language System Options
At PRC, we recognize that one system does not fit everyone. That's why we provide a variety of language systems designed to meet a variety of needs, and begin from a variety of starting places. Contact your regional consultant to learn more about our specific language systems and how to decide which is best for your loved one.