Communication at Home Made Easier with 50% Off LAMP Words for Life® iOS App
For Autism Awareness Month, we're putting our industry-leading LAMP Words for Life® iOS app on sale again, April 11-15!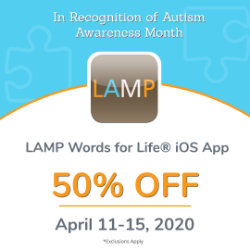 LAMP Words For Life is a robust augmentative and alternative communication (AAC) language app that combines the power of the PRC Unity® language system with Language Acquisition through Motor Planning (LAMP™) principles and strategies.
LAMP is a therapeutic approach based on neurological and motor learning principles as well as clinical experiences that address the language development and communication needs of children with autism and other developmental disabilities. It provides a consistent motor pattern for words and a systematic way to develop communication skills allowing for unlimited language growth opportunities.
The LAMP Words for Life app offers the ability to grow from an emerging vocabulabulary to complex communication without motor relearning along the way. English and a bilingual Spanish/English vocabularies are available.
Sale Terms and Conditions
The discount is based on the U.S. App Store.
Exact prices may vary in other countries.
Excludes all in-app purchases.
Sale subject to change at any time.
Purchase orders NOT accepted.
Can be combined with Apple's Volume Purchase Program for Education discount​.
Sale excludes the following countries:
Australia, Belgium, Denmark, France, Germany, Hong Kong, India, Ireland, Malta, New Zealand, Norway, Singapore, Slovenia, South Africa, Spain, UAE, and UK.
---
Take a Webinar!
Join The Center for AAC and Autism from 7 p.m. - 8 p.m. ET nightly April 14th-16th as they host Let's Collaborate!
This FREE 3-night webinar series will focus on collaboration among teams using LAMP Words for Life® language system and the LAMP method.
---

Blog
-

aac, alternative and augmentative communication, aac evaluations, lamp, lamp words for life, lamp words for life app, lamp app
---