The new Via Pro from PRC-Saltillo combines the most powerful iOS technology with the freedom to choose the features that suit you best.
Via Pro comes preloaded with your choice of LAMP Words for Life® or TouchChat with WordPower™, two of the most popular research-based AAC apps.
LAMP Words for Life is PRC's renowned, motor-planning focused language system for communicators with autism and developmental disabilities.
Widely-acclaimed TouchChat by Saltillo contains the only WordPower options available as an app, and is fully customizable for a variety of communication needs.
Even better, either choice comes with Spanish options already integrated for seamless bilingual communication.
Now Via Pro offers even more: the Dialogue AAC app.
New for Via Pro: Dialogue AAC from PRC-Saltillo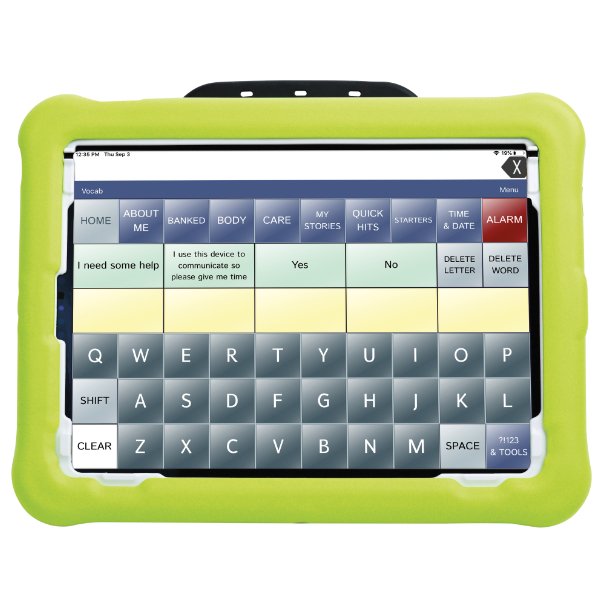 Loved for its power and simplicity, the Essence vocabulary on PRC's Accent® devices is now available within the new Dialogue AAC app from AAC industry pioneers, PRC-Saltillo.
The Essence® vocabulary is designed for literate adults who, due to a stroke, a traumatic brain injury or a degenerative neurological disease such as ALS, need a way to communicate and actively engage in life.
The easy-to-navigate interface of Essence, FREE voice banking and voice creation options, along with the power and familiarity of iOS functionality, come together to create a robust app that gives communicators the ability to begin communicating right away.
If you've used Essence vocabulary in an Accent device, you'll instantly recognize the helpful features that make it so popular:
A simple spelling and phrase-based vocabulary system
60 and 84 location configurations to accommodate different visual and motor abilities
Intuitive prestored messages
Auto-population of message-banking
Customizable with custom buttons, pages and pre-stored phrases
Dialogue can also be used as a complement to your Accent device
Even better, Dialogue AAC offers a wide range of access options:
Touch: With touch accommodations included
Switch scanning: Compatible with most Bluetooth switches or PRC-Saltillo AeroSwitch
Head tracking: For individuals who can't use their fingers, integrated head tracking uses the iPad's built-in facial recognition to track head/face movements for easy navigation & button selection
Available on iPad Pro 12.9-inch (3rd generation), iPad Pro 11-inch, iPhone XS Max, iPhone XS, iPhone XR, iPhone X, iPhone 11.
The Importance of YOUR Voice

The Dialogue AAC app comes with the ability to personalize your voice through VoiceKeeper™. VoiceKeeper is cutting-edge voice personalization software that makes personalizing a voice fun and easy. Not a recording, but a synthesized voice created by you for later banking or, by others, to create a unique voice, unlike any other.
A $75 value, integrating a custom voice with the VoiceKeeper is FREE with the purchase of the DialogueAAC app. See app.thevoicekeeper.com/Dialogue for more information.
Further, Dialogue AAC integrates with multiple message banking websites, including mymessagebanking.com and messagebanking.prc-saltillo.com. Record your own messages and download them directly into the Dialogue AAC app.
Your Via Pro, Your Way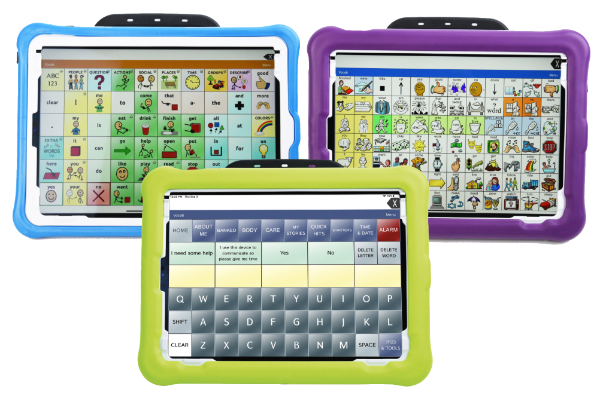 Created by the same developers who brought you the industry-leading TouchChat® and LAMP Words for Life® apps, Dialogue AAC is the perfect solution for those looking to communicate on-the-go, enhance their current solution and take advantage of the power of iOS technology.
Purchase Via Pro with the configuration that suits you best: One app. Two apps. Or all three. It's Your Via Pro, Your Way!
Purchase Via Pro
Additional Links
---

News and Updates
---