The odds, they told her, were astronomical. The chances of her son having a rare disorder were the same as being struck by lightning.
And then lightning struck once more.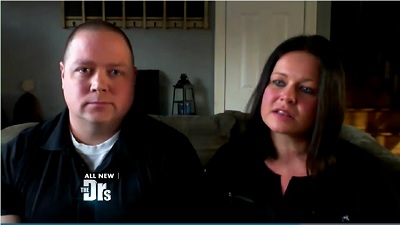 For Barrington, NJ, residents Kelly Sexton and her husband, Ryan, getting an official diagnosis for their two sons, Dylan, 7, and Logan, 5, was a mystery – and a long, hard journey.
"It's an everyday challenge," she said. "We just take it day-by-day."
When Dylan was first born, he was diagnosed with congenital diaphragmatic hernia (CDH), a birth defect of the diaphragm which required surgery. At first, Kelly and Ryan attributed this to his inability to hit milestones, including babbling and crawling. They began working with speech and occupational therapists to help his development.
And then Logan was born. He, too, was born with a serious birth defect: cystic hygroma, resulting in a mass on his neck. And as he, too, failed to meet milestones, doctors once again chalked it up to aftereffects of the early surgeries.
But as the boys continued to age, it became clear to the couple that there was more going on. And despite numerous rounds of testing, they were unable to get answers from the medical community.
"We didn't have a diagnosis," said Kelly. "We didn't have a 'home.'"
Finally, an answer
It wasn't until March of this year when a geneticist at Children's Hospital of Philadelphia was able to relate research from a German publication on a little-known disorder called MED13L syndrome to the boys' symptoms that the family was able to get an answer.
Exome sequencing, or laying out all the genes contained within a genome, identified that the boys were missing a tiny piece of a gene called MED13L. Today there are approximately only 20 known cases of MED13L in the United States, with the boys the only known siblings to carry the mutation.
Both boys share many of the syndrome's identifiers, including developmental delays and behavioral issues, and both are nonverbal.
"It's like they're twins," said Kelly.
Struggling to Communicate
It was their inability to communicate, she said, that led to issues such as Dylan not being able to tell his parents his tooth hurt from a cavity for six months.
"It's the simplest things," she said.
For a time, the boys were able to communicate using sign language. To help them learn language, their speech-language pathologist recommended the Prentke Romich Accent 1000. They borrowed the devices to use for a month.
Although they started slowly, the difference was noticeable.
"In the one month we had the devices, they were able to start learning," Kelly noted.
However, because a MED13L diagnosis is still so new, there were delays in getting the devices on a more permanent basis for the boys.
Enter The Doctors
A family member, knowing the family's need, recommended them to the Emmy Award-winning daytime talk show, The Doctors.
The show is hosted by ER physician Dr. Travis Stork and co-hosted by plastic surgeon and reconstructive surgery expert Dr. Andrew Ordon, along with recurring co-host, urologist Dr. Jennifer Berman. The team answers health and wellness questions as well as enlightening viewers with simple ways to attain and maintain good health.
The show invited the family out to be featured on a segment.
"We were so nervous," she said. "We didn't want to do it but we knew we had to for the boys."
Meanwhile, in November the show reached out to PRC, asking for assistance for the family.
"We were only happy to help," said PRC CEO Dave Moffatt. "It's our mission to enable individuals with speech and language disabilities to become successful communicators, and so for us, it was a pleasure to help these boys."
The show, which aired Dec. 6, featured the family being given two PRC Accent 800s with keyguards. The devices are small enough for the boys to carry with them but large enough for readability. The keyguards help guide the user's touch to targeted icons on the screen and reduce accidental activations.
"We're humbled," said Kelly. "I think the devices are really going to help us minimize the boys' frustrations."
Asked about seeing herself on TV, Kelly noted that being on television again was not in her future.
"But, even if we reach out to one other family it will be worth it," she said. "I worry about other families. It's a struggle."
About PRC
PRC is a global leader in the development of AAC solutions, including augmentative communication devices, computer access products and other assistive technology for people with speech disorders. A 100% employee-owned company headquartered in Wooster, OH, PRC pioneered the use of technology to bring speech and language capabilities to adults and children with disabilities nearly 50 years ago. Since then, the company's products have enabled children and adults worldwide to achieve spontaneous, independent, and interactive communication regardless of their disability, literacy level or motor skills.
In addition to powerful AAC devices, PRC provides teaching and implementation ideas, therapy materials, curriculum sequences, funding assistance and training to speech-language pathologists, special educators and the families of AAC communicators.
Contact Information
Kally Mavromatis
Marketing Specialist
Kally.Mavromatis@prentrom.com
800.262.1984, ext. 1268
---

Blog
---