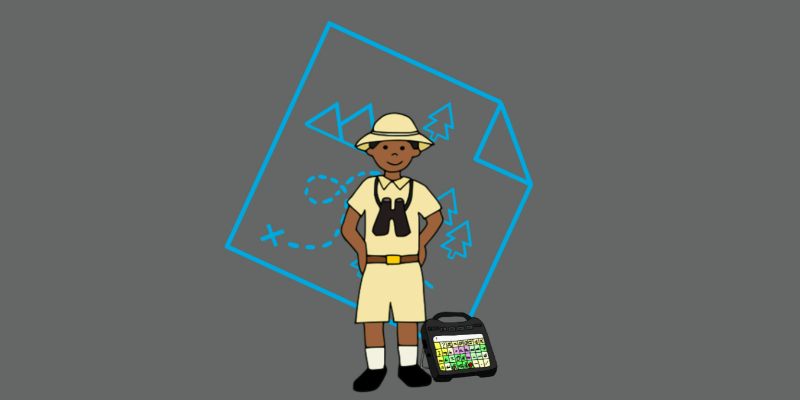 In the first phase of Your Core Mission you learned about the power of core vocabulary. So how is core vocabulary organized in AAC? Your second core mission is to learn how core vocabulary is represented in two robust AAC vocabulary systems from PRC-Saltillo. Through videos, hands-on demonstration, and interactive exploration we'll develop an understanding of the features of LAMP WFL and WordPower.
Continue your mission towards supporting meaningful communication with core vocabulary!  This is Phase 2 in a 3-part series for Your Core Mission.
Mission intended for: SLPs and other clinicians and classroom support personnel who support users who are using, or who may be candidates for, LAMP WFL and WordPower. Recommended prerequisite skills include: solid understanding of core vocabulary (e.g., completion of Phase 1).
Devices are optional, but if you have an Accent, NovaChat, Via with TouchChat or Via with LAMP Words for Life, or iPad with TouchChat or LAMP Words for Life app to follow along, it is encouraged.
Learning Outcomes: 
Participants will be able to:
Describe 3 key elements of effective AAC vocabulary (single words, core vocabulary, generative, efficient, etc)
Show 3 features of LAMP WFL and how they support communication competence
Show 3 features of WordPower and how they support communication competence
Demonstrate 2 differences between these feature sets
Time Ordered Agenda:
5 minutes        Introduction
15 minutes      Review and Overview of Core Vocabulary in AAC Implementation
25 minutes      WordPower vocabulary overview with hands-on practice
25 minutes      LAMP Words for Life overview with hands-on practice
10 minutes      Hands-on combined WordPower & LAMP Words for Life clinical activity
10 minutes      Discussion & Questions
Click here for instructor bio and disclosures