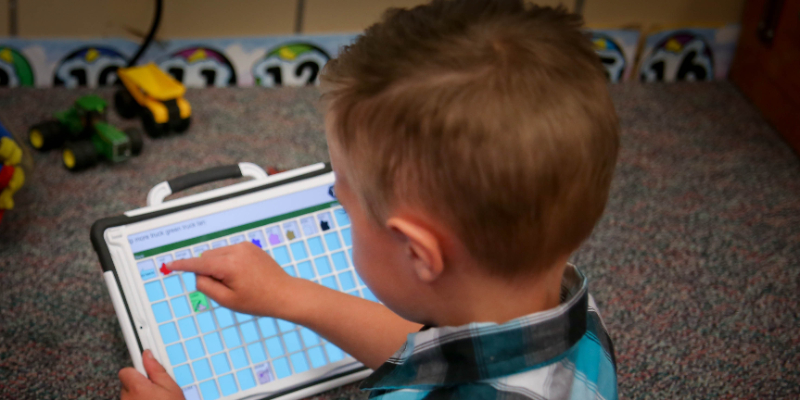 PRC believes in providing single words for novel communication. In this three-hour product training participants will learn about LAMP Words for Life (WFL) as well as programming, customizing, and basic implementation of the vocabulary. The difference between LAMP and LAMP WFL will be discussed as well as the three levels of LAMP WFL: 84 1-hit, 84 transition and 84 full. The first segment will provide hands-on practice with the vocabulary. The second segment will cover Word Finder, Vocabulary Builder, customizing and adding words. The third section will review basic implementation strategies to get someone talking with LAMP WFL on an Accent. A variety of tools and strategies for teaching LAMP WFL will be reviewed. Hands-on practice is encouraged throughout the course, so come prepared to learn and practice.
Please note, this training is intended for those who are using LAMP WFL on an Accent product. This training is not for those using the LAMP WFL app on an iPad. This training briefly discusses the LAMP approach, but it is not a LAMP training. To learn about the LAMP approach, please visit
http://www.aacandautism.com
.
A PRC Accent device or laptop is required for this training. Please bring an Accent 700, 800, 1000, 1200, or 1400 with the most current software version available. Participants can bring a laptop computer pre-loaded with PASS demo software for Accent. If you want to use a Mac laptop you will need a Windows emulator with PASS installed. PASS software is not compatible with iPads.
This training is appropriate for SLPs, OTs, ATPs, educators, family members, and others who support individuals who currently use or may need to use a PRC device.
Learner Outcomes:
1.  Define LAMP and LAMP WFL
2.  Find and say phrases and sentences in LAMP WFL full
3.  Program and customize a LAMP WFL vocabulary
4.  Use strategies and find resource materials to implement LAMP WFL
Agenda:
10 minutes - Introduction and Housekeeping
10 minutes – What is LAMP? What is LAMP WFL?
15 minutes - LAMP WFL 84 1-hit
45 minutes - LAMP WFL 84 Full and Transition
40 minutes - Practice modeling top 100 words using LAMP WFL Full during motivating activities
30 minutes - Basic programming and customizing of LAMP WFL on an Accent
30 minutes - Overview of PRC resources, training, AAC Language Lab and Realize Language
Click here for instructor bio and disclosures