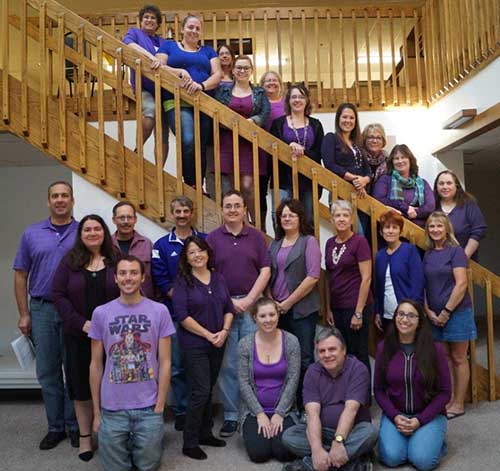 October is Rett Syndrome Awareness Month. But what is Rett Syndrome?
Rett Syndrome is a neurodevelopmental disorder that affects girls almost exclusively. Extremely rare, fewer than 1,000 U.S. girls are diagnosed each year. Worldwide, Rett Syndrome occurs in 1 out of every 10,000 female births.
The syndrome is caused by a mutation of the X chromosome, MECP2, that controls the functions of many other genes, and was first identified by Dr. Andreas Rett, an Austrian physician, in 1966.
Typical Rett Syndrome behavior includes losing purposeful use of the hands and making repeated hand-wringing, washing or clapping motions. Language and communication begin to decline, along with coordination. Other signs and symptoms include breathing abnormalities, seizures, sleep disturbances and scoliosis.
Stages of Progression
At birth, girls with Rett Syndrome begin to develop on track. However, the first signs begin to appear anywhere from six to 18 months, with Rett Syndrome developing in stages:
Stage 1: Early Onset
Typically begins between six to 18 months
Stage 2: Rapid Destructive
Usually occurs from age 1-4
Stage 3: Plateau or Pseudo-stationary Stage
Generally begins between ages 2-10; most girls remain in this stage
Stage 4: Late Motor Deterioration
Myth vs. Fact
Myth or Fact: Boys don't get Rett Syndrome.
Myth. RS primarily affects girls because – unlike boys, who have XY chromosomes – girls have XX chromosomes. The second, normal X gene ensures that at least some of the proteins are produced. It's also why RS is fatal for boys.
Myth or Fact: Rett Syndrome can affect all racial and ethnic groups.
Fact. Rett Syndrome can affect any girl, anywhere.
Myth or Fact: There is no easy way to diagnose Rett Syndrome.
Myth. Rett Syndrome can be identified with a simple blood test.
Infographics
Download our infographics on Rett Syndrome.
Fact Sheet
Learn More: Organizations
Girl Power 2 Cure
GP2C is a nonprofit organization offering support, education and mainstream awareness with the goal of becoming the first curable childhood neurological disorder.
RettGirl.org
This is an excellent resource site for families who have daughters with Rett Syndrome.
RettSyndrome.org
RettSyndrome.org invests in research, empowers families and advocates for and raises awareness of Rett Syndrome
ReverseRett.org
Reverse Rett Research Trust funds research for a cure for Rett Syndrome and related MECP2 disorders.
Learn More: Links
Copyright © PRC-Saltillo. All Rights Reserved.