Meet Karla! She is the super dedicated mom to sweet Luz who battles Rett Syndrome, a neurological disorder that mainly affects girls and robs them of their ability to speak, use their hands ... or run. She says she doesn't consider herself an athlete, but dictionary.com says an athlete is "a person trained or gifted in exercises or contests involving physical agility, stamina, or strength." In addition to her involvement with Team GP2C as a runner, she is also Luz's caregiver - a role we know requires even more than physical agility, stamina and strength -- but mental as well. We applaud Karla for all she does and are honored to have her run with Team GP2C to help us cure Rett Syndrome!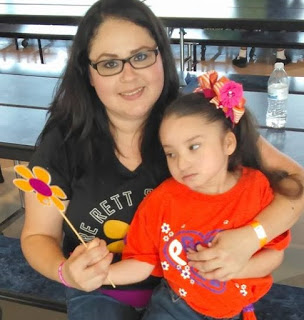 How did you get involved with GP2C?
My daughter was diagnosed with Rett syndrome on 9/24/09. Since day one I promised her that I would do everything to get educated and involved to make her life easier. So far, I think Luz is proud of me. I heard of GP2C in 2014 after I saw the pictures of the Disney run. It looked like so much fun so I decided to give it a try.
What inspired you to become an athlete?
I don't really consider myself an athlete. It's so hard for me to make time to go out for a run or train. I did my first 5K with GP2C in 2015 and I loved it. I was the only team member to sign up for that race. This year I went back and did my first half marathon. It took me almost 4 hours but I did it. I'm inspired by Luz and all the children with Rett Syndrome. I will do anything to help find a cure for Rett. If that requires me to become an athlete then yes sign me up. I run inspired by Luz and on HOPE for a cure.
What is your favorite part of running for Team GP2C?
That most of the team is made up of Moms or Dads like me. Most of us have never run before. We all run with the same goal in mind. A CURE for Rett Syndrome. We all are inspired by our angels and that's what makes our team stand out.
What keeps you coming back?
Luz! I see her struggle 24/7, 365 days a year yet she never gives up and continues to SMILE. If she can continue to fight I can go back for one more run. #UntilSheCan
What would you tell other people that are thinking about joining Team GP2C?
If there's a race you have to do it is the Disney Princess run. The location is perfect, the weather is perfect plus you are at the happiest place on the world. The team is amazing and provides all the support you need leading to race day.
Share a few lines of your favorite running song at the moment!
When I go out for a run I just look for inspirational running songs but I recently heard this song and I liked it a lot. I believe by Yolanda Adams...and that's what I do, Believe … because I believe a CURE will come in Luz's lifetime.
What would be a perfect afternoon for you?
I live in South Texas so its very humid and HOT. A perfect afternoon to go out for a run would be any day with temperatures under 80 degrees with a cool breeze.
Share one quote or saying that inspires you to keep going.
Courage doesn't always roar. Sometimes is the quiet voice at the end of the day saying I will try again tomorrow - Mary Anne Radmacher
---

Blog
-

rett syndrome, disney princess run, raise money for rett syndrome, retts syndrome
---