Last year, PRC-Saltillo was pleased to sponsor two Academy of Neurologic Communication Disorders and Sciences (ANCDS) Fellowship Awards.
Founded in 1988, ANCDS is non-profit, professional organization with the goal of "enhancing the communicative lives of people affected by neurologic disorders."
Every year, ANCDS offers 10 scholarships to students to attend the organization's Annual Scientific Meeting. The scholarships are available to full-time speech-language pathology Master's and Doctoral students enrolled in graduate-level classes and are specializing in clinical neurologically-based communication disorders and sciences.
In 2018, ANCDS held their annual meeting in Boston, and PRC-Saltillo was happy to sponsor two exceptional young women, Madeline Wollersheim and Sarah Diehl.
Learn more about these two women who are working hard to make a difference in the lives of those who cannot speak for themselves.
Best wishes to Maddy and Sarah!
Biography
I grew up in a small town in central PA with my parents and two brothers. I've since moved away to Pittsburgh, and now Nashville, but I love going home for visits.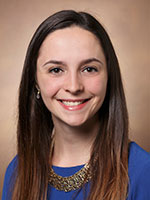 My interest in going into the field of speech therapy came about through my relationship with a very good friend and her brother who has autism. I was lucky to be able to know this young man and learn more than I could ever imagine about communication disorders through my relationship with his family.
My interests were furthered when working with a Head Start preschool in high school. I thought that I would want to work in the school systems but quickly realized that I was more invested in other aspects of our field. After beginning my coursework at Duquesne University, it became very clear that I was drawn to working with people who have neurogenic communication disorders, including those who would benefit from AAC services. I gained valuable experience working with people who have aphasia or TBI which led me to seek out research opportunities for adults with neurological conditions leading to language, motor speech, and cognitive difficulties. I recognized the need for additional clinical research to guide SLPs and improve services for these populations which led me to continue to pursue my PhD at Vanderbilt University.
At Vanderbilt, my clinical and research focus has been in rare neurodegenerative disorders such as Huntington's disease and amyotrophic lateral sclerosis.
Upon completion of my doctoral studies I hope to obtain a tenure-track faculty position at a research intensive university where I will engage in clinical research aiming to improve guidelines for SLPs working with patients who have complex and interacting cognitive and motor symptoms related to neurodegenerative disorders.
What advice would you give others thinking about entering the field?
Speech-language pathologists have a unique ability to work with patients who have incredibly diverse needs. Communication is such a valuable part of our lives and although that can seem daunting, there is nothing more rewarding than helping to improve a patient's quality of life. As you consider the field of speech-language pathology I would recommend that you take advantage of the opportunity to learn about the variety of populations we can serve.
Bio
I was born and raised in Minnesota. I completed my undergraduate degree at the University of Minnesota; there, I received my Bachelor of Arts in Speech-Language-Hearing Sciences and Spanish Studies.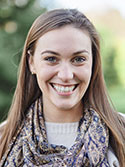 Soon after graduation, I got married. My husband and I then moved southwest to Tucson, Arizona. In Arizona, I completed a Master of Science in Speech Pathology at the University of Arizona. I have always loved school, and the opportunity to learn at two research and clinically-oriented institutions was incredible.
Bringing it full circle, we moved back to Minnesota this year (2019) and I started my clinical fellowship at the Minneapolis VA Medical Center. Outside of work, I enjoy hiking, cooking, baking, exploring coffee shops, and spending time with family.
When volunteering at a hospital at the age of 14, I had a meaningful interaction with a patient with an acquired neurogenic communication impairment. After speaking with a nurse about our interaction, I first learned that speech pathology was a career. Soon after, I began researching the field and shadowing speech language pathologists in various settings. The more I learned about the field the more I loved it.
I am currently a clinical fellow. I have thoroughly enjoyed each professional niche I have experienced. I plan to practice as a clinician before making the decision of whether or not to pursue further education. While I do not currently have a professional goal related to a specific setting, I aim to incorporate the following into my practice regardless of where I am: (a) evidence-based practice, (b) mentorship to aspiring and novice speech language pathologists, and (c) involvement in research, either clinical or academic.
What advice would you give others thinking about entering the field?
Reach out to speech language pathologists to learn more! My colleagues and peers love our field and would be excited to share experiences and guidance. If you can, set up times to shadow in various settings. The scope of practice is very broad, and you may be surprised to learn the many populations with which speech language pathologists work.
---

---

News and Updates
---