PRC-Saltillo is pleased to partner with Chive Charities to give the gift of communication to a child in need.
In July, Chive Charities reached out to PRC-Saltillo on behalf of Wesley G., a 14 year-old from Michigan. Born without eyes and suffering from Selective Mutism, Wesley was unable to communicate and express his needs.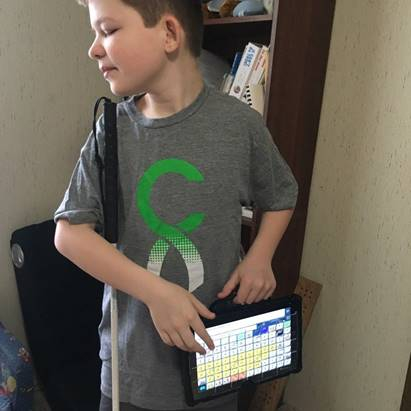 His speech therapist, along with the tech team at his school, suggested Wesley try the Accent® 1000 with LAMP Words for Life – VI. The result was astonishing.
"Wesley is currently using a talking device that has him expressing himself to degrees we haven't seen," said his mother, Janet.
However, the school had been loaning the device to Wesley's family – and the loan was almost due. That's when Chive Charities reached out to PRC-Saltillo.
"We were honored to work with Chive Charities to assist this wonderful young man," said Chuck Reid, VP of Marketing & Distribution. "Our mission – the core of what we do – is to enable individuals with speech and language impairments to successfully communicate and interact in their environment. With his new device, Wesley is now able to express himself more fully. We couldn't be more delighted!"
"With our missions and hearts aligned, Chive Charities is thrilled to partner with PRC-Saltillo to give Wesley his voice back," said Erika Carley, Director of Strategic Development. "The Accent 100 has been life-changing for Wesley and his family and we are grateful to PRC-Saltillo, along with our incredible donors, for making this grant possible."
About Chive Charities
Chive Charities supports veterans, first responders, and rare medical diagnoses with life-changing grants and spreads awareness through sharing the personal stories of grit, courage, and never giving up. To date, Chive Charities has helped over 370 causes with over $14 million dollars in aid, covering renovation projects, wheelchair accessible vehicles, pieces of medical and therapy equipment, service dogs and impactful experiences. Though headquartered in Austin, Texas, the charity's reach has extended coast to coast with the slogan Making the World 10 Percent Happier.
For more information, visit their website at www.chivecharities.org.
---

News and Updates
---