PRC is pleased to introduce the new Accent® 800.
The updated Accent 800 now includes the features you already love, but improved: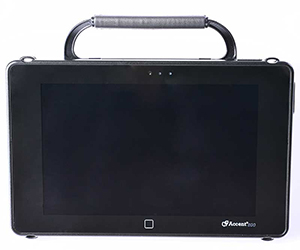 All-day Portability. The new Accent 800 is smaller and lighter, making it even easier to carry.
Increased Audio Fidelity. Improved audio for a richer sound with less distortion across a wider volume range for clear, audible communication.
Durability. The Accent 800 is engineered for daily use at home, at school or at play. Complies with military-grade drop and vibration specifications of 810G.
Improved Display. In addition to higher resolution with improved brightness and contrast, optical bonding makes the new screen significantly more resistant to breakage from direct impacts.
Expanded Storage. The Accent 800 now has double the hard drive capability for pictures, videos, games and more.
Greater IR Coverage. Enjoy greater control of IR devices with the Accent 800. Expanded coverage area means control of devices from a range of positions: standing up, sitting down, etc.
Molded Color Frames. No more stickers peeling off and causing a gooey mess. Available in black, red, purple and blue.
The device offers a choice of vocabulary options featuring Unity® with UNIDAD®, LAMP Words for Life®, LAMP Words for Life – Spanish/English, CoreScanner™, Essence® for literate adults and WordPower™.
Configured as a dedicated device to meet the functional specifications of the Medicare/Medicaid funding requirements, the Accent 800 is locked from computer access and all other non-communication functions.
Contact your consultant for more information.
---

News and Updates
---