PRC's latest update for Empower now includes Essence!
Now available for PRC's Empower™ software, Essence is PRC's language system for literate adults who use augmentative and alternative communication (AAC). Following a stroke, traumatic brain injury or degenerative neurological disease such as ALS, an individual may have difficulty communicating with his/her natural voice.
Essence continues to offer individuals the ability to communicate at home, in the workplace or social situations, and achieve their highest level of independence and autonomy.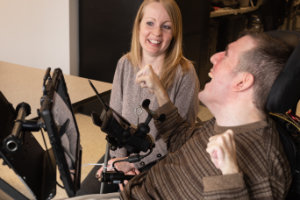 The all-new Essence vocabulary designed for Empower includes:
An accessible browser. Built-in, eye-gaze accessible browser with section zoom and auto-scroll for a more familiar, natural browsing experience.
Upgraded vocabulary. Essence now features improved word prediction for faster communication.
Message storing. Essence also allows communicators to save and edit messages, paragraphs and other prepared speech on a button for usage or later editing.
Message banking. Essence also incorporates message banking, with banked message pages built in. Import and automatically program banked messages from mymessagebanking.com and other compatible message banking websites (new PRC message-banking experience coming soon).
Try Essence for Empower
Give it a try! Download our demo version of Empower. Currently supporting the Unity®, LAMP Words for Life® and now Essence language systems, Empower is customizable, intuitive to use and easier to learn, with its common terms, familiar actions and streamlined and simpler navigation.
For More Information
Contact your local PRC Consultant for more information by visiting prentrom.com/consultants, by calling 800.262.1984 or emailing info@prentrom.com.
---

News and Updates
---