There's a lot going on in October, including National Disability Employment Awareness Month (NDEAM). NDEAM is an opportunity to bring to light the skills and abilities that inclusion has to offer.
Happily, businesses are beginning to recognize this. According to Disability Scoop, while even though less than 1 in 5 with disabilities are employed, the outlook continues to improve. In fact, "a growing number of companies are actively recruiting from this population," the website reports.
"In a survey of 110 companies that collectively account for 5 percent of the nation's workforce, 95 percent reported that they have recruitment efforts in place specifically aimed at hiring people with disabilities. That's an increase of 11 percentage points since 2014."
While progress is being made, however, there is still a long way to go. According to the US Department of Labor, only 20.1 percent of people with a disability participate in the workforce, compared to 68.6 percent. In addition, the unemployment rate for people with disabilities is 10.7 percent, compared with 3.8 percent.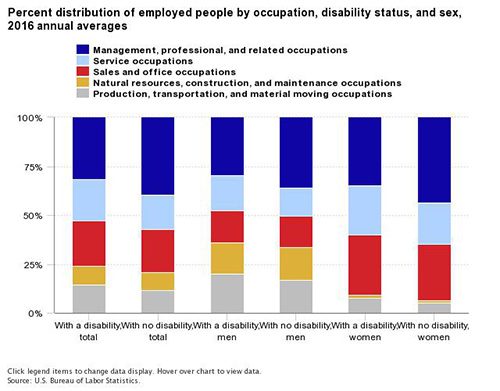 Building Awareness
As part of its drive to increase disability employment awareness, the Department of Labor has been focusing on the issue since 1945, when Congress declared the first week in October "National Employ the Physically Handicapped Week."
The roots of advocating for the disabled begins as far back as the early 1920s, with the signing of the Smith-Fess Act by President Woodrow Wilson. The act established the Vocational Rehabilitation program and was modeled on an earlier law that provided for the rehabilitation of World War I veterans.
Over the years, advocacy for and expansion of rights for those with a disability grew, not only for those with a physical disability but intellectual disabilities, as well, culminating in the Americans with Disabilities Act.
There is much that those with a disability can contribute to society and to businesses. "Americans of all abilities must have access to good, safe jobs," said U.S. Secretary of Labor Alexander Acosta in an online statement. "Smart employers know that including different perspectives in problem-solving situations leads to better solutions. Hiring employees with diverse abilities strengthens their business, increases competition, and drives innovation."
Infographic
Download our infographic with information on employment rates for those with a disability. (Click image for larger.)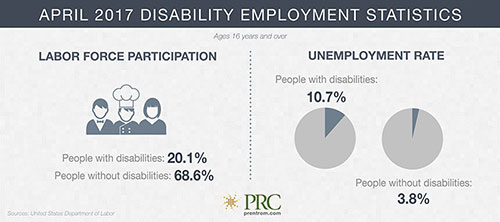 Learn More
Sources:
---

Blog
---