Welcome to the Next Generation
You know the PRC Accent® 1000: portable, easy to access and complete with an extensive vocabulary.
Now the best just got even better. The updated Accent 1000 includes the features you already love, but improved:
All-day Portability. The new Accent 1000 is smaller and lighter, making it even easier to carry.
Increased Audio Fidelity. Improved audio for a richer sound with less distortion across a wider volume range for clear, audible communication.
Durability. The Accent® 1000 is engineered for daily use at home, at school or at play. Complies with military-grade drop and vibration specifications of MIL SPEC 810G.
Improved Display. Chemically-hardened glass coupled with optical bonding creates screen vibrancy and rich, sharp contrast.
Expanded Storage. The Accent® 1000 now has double the RAM and storage capability.
Greater IR Coverage. Enjoy greater control of IR devices with the Accent® 1000. Expanded coverage area means control of devices from a range of positions: standing up, sitting down, etc.
The device offers a choice of vocabulary options featuring Unity® with UNIDAD®, LAMP Words for Life®, LAMP Words for Life – Spanish/English, CoreScanner™, Essence® for literate adults and WordPower™. The Accent 1000 is powered by PRC's NuVoice® software and offers built in support resources for clinicians and clients.
Configured as a dedicated device to meet the functional specifications of the Medicare/Medicaid funding requirements, the Accent 1000 is locked from computer access and all other non-communication functions.
The Accent 1000 is available with the following frame colors:
Black
Red
Blue
Pink
Purple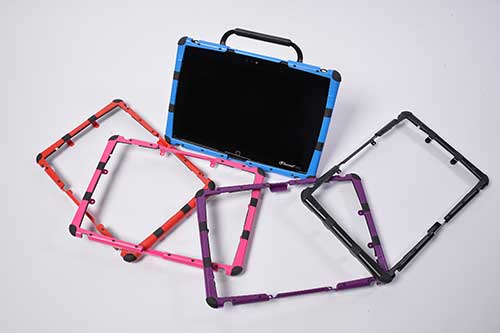 Contact your consultant for more information.
---

News and Updates
---