Despite her diagnosis of Cerebral Palsy (CP), Haleigh has worked hard to overcome many challenges in her 11 years.
"Haleigh wakes up every day with a smile on her face, ready to face whatever the day may bring," reports her mom, Becky.
When Haleigh was younger, she used a form of simple sign language she had taught herself to communicate with others. However, with Haleigh's CP, it was difficult to be precise with signs and one sign could mean many different things.
This communication barrier greatly affected Haleigh.
"She is a very social girl and the difficulty she had growing meaningful relationships with others really affected her. Haleigh has always had a very strong desire to be included with her talking peers at school and be a part of every conversation that she can be!" said Becky.
Time for a Device
Initial attempts at getting Haleigh to connect with a device to help her wasn't as successful as hoped.
While Haleigh first had LAMP Words for Life® installed on her iPad, she was unable to use it. Along with the mobility and communication deficits expected with CP, Haleigh's vision is also affected; therefore, she couldn't see the iPad to know what she was communicating. In addition, the fine motor aspect of selecting buttons also proved to be a challenge.
As defeating as this step was, Haleigh's family never gave up.
Let's Try Again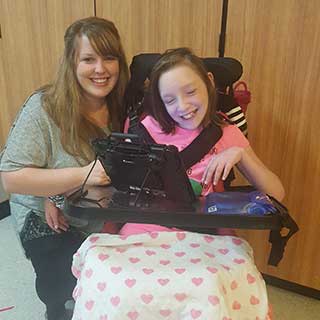 The next step? An Accent® 1000. PRC Consultant Beth Browning decided to have Haleigh try the device to reduce or eliminate the challenges she was facing with the iPad.
Beth set Haleigh up with the Accent 1000 with CoreScanner™ as well a two-switch access method that allowed Haleigh to "scan" through the icons with one button, and then use the other button to "select" what she wanted to say.
She started with a single switch to say "more," then increased to having eight core words available ("more, stop, go, hello, mine, play, on, turn"). Over a very short time, she advanced to the highest level of CoreScanner (Blast) with two-switch step scanning where she now has access to thousands of words and spelling.
This new system of accessing the program successfully addressed the problems of Haleigh's vision and fine motor difficulties. In addition, Haleigh was allowed to pick one voice for scanning and another to represent Haleigh.
"She thinks this is so fun and loves to change these voices all the time!" laughed her mom.
Success!
Progress for this bright young lady has been steady. Haleigh started out using the device to communicate single words, but now she is doing so much more.
Haleigh uses her Accent 1000 to play at home with her dolls and even learns the names of all the voices programmed into her device to pretend they "play," too.
"She likes to tell jokes, engage in playful banter, and tell many other stories at home. Her Accent 1000 has allowed her to do all of this," said Becky. "In fact, she is getting more and more creative all the time!"
Haleigh's favorite time of day is talking to Grandma every night.
Using FaceTime, for the last four years Haleigh's Grandma would talk with her every night. At first, it was difficult for Haleigh's Grandma to know what Haleigh wanted to discuss. The hand signs helped, but Haleigh had so much more to say.
But with her Accent 1000, Haleigh's evening chat with Grandma has taken on new meaning. She asks Grandma to tell stories, and recently even requested a ghost be in the story! Although Grandma was unsure about scary stories, Haleigh found "tickle" on her device and Grandma knew that Haleigh wanted a tickling ghost. Such an imagination!
Haleigh also likes to find new words on the device that she doesn't know yet and asks Grandma what they mean. The words she has been wanting to learn recently? Ability, enabled, and confident.
Haleigh even wanted Grandma to help her spell words on her Accent 1000. Grandma reports it was very impressive to watch Haleigh spell words out on the device.
"She just loves to learn and it shows every day," said Browning.
Fun at School
School is truly where Haleigh's social side shines, as she loves being around other students.
"Haleigh always starts speech by saying, 'Hello, Mrs. Hoffman,' just like every other kid," said Bethany Hoffman, Haleigh's Speech Pathologist at school. She loves how Haleigh uses her device to greet others.
"It has been amazing to watch Haleigh go from using single words, to phrases, and now sentences. Haleigh is able to use her device to communicate anything she wants to. We are so proud of her!"
Haleigh's social streak shows up in just about every class she's in.
In speech class, Haleigh's favorite sentence is, "I want candy," followed by her contagious laughter, reports Hoffman.
And in her regular classroom, she's constantly communicating with her classmates.
"I just love seeing Haleigh having conversations in the classroom with other students or making comments during an activity without any prompting," says teacher Kara Berens.
Haleigh's physical therapist, Mindy Hussey, also loves working with Haleigh. She has been working with Haleigh since she was 4 years old when Haleigh only communicated by touching Mindy's hand to answer questions. Haleigh now uses her device to greet Mindy every time she sees her and also likes to request what music they listen to while doing physical therapy. Mindy is also thankful that Haleigh can use her device to share important information like not feeling well or when she has pain.
Haleigh is so lucky to have a team of people at school who love her and love seeing the progress she has made!
Looking Ahead
"Everyone who knows Haleigh, knows that the sky is the limit for her," said her mom. "We cannot wait to see where she goes from here and how she expertly uses her device to interact with others."
---

Blog
---