It is with great sadness that we announce the loss of our friend and colleague, Bruce Baker.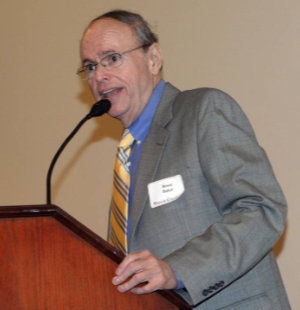 Over the past 40 years, Bruce's work has given voice to tens of thousands of individuals. He first conceived of his innovative system of in the 1970s, as he was looking for a topic for his doctoral thesis in modern linguistics and language. Inspired by his interviews with people with disabilities, he was determined to find a better, easier way for them to communicate with him, which led to his introduction to AAC.
The more he looked around, the more he realized that the available technology focused exclusively on using letters and words. Over time, Bruce realized it was necessary to represent language on the keyboard of a computer in some other way. Drawing on his previous studies in the field of Classical Philology, he turned to the use of small pictures or icons – and thus Minspeak™ was born in the summer of 1980.
After meeting Barry Romich at several conventions, the two realized their common goal of serving those with communication disabilities. In 1981 PRC began working with Bruce to develop Unity, PRC's proprietary vocabulary program with spelling, word prediction and single-meaning picture options, which has since become the foundation for the vocabulary in most PRC products.
When first introduced, it was a substantial departure from the traditional way of looking at symbols, not just for computer systems in general but for language representation in particular. However, thanks to Bruce and his innovative system over the years they have helped hundreds of thousands around the world not just learn to communicate but work, attend school and live full and rich lives.
Over the years, Bruce became much more than a business partner. He became a mentor to many, a teacher to others, a friend to everyone and an inspiration to us all. His passing leaves a big hole in our hearts and in the field of AAC.
He will be greatly missed.
---
Some content taken from minspeak.com/minspeak-history.
---

News and Updates
-

bruce baker, minspeak
---