Congratulations to Josette Drees of Mary Cariola Children's Center, winner of PRC's American Speech-Hearing Association Conference (ASHA) drawing!
She came to it later than most.
"I discovered speech-language pathology in my mid-20s," said Josette Drees. But when she did it came as no surprise; "Kids have always been my thing," she said.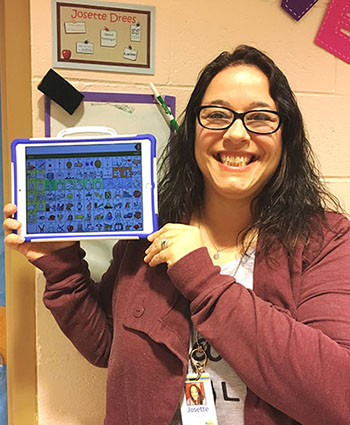 For Drees, a speech-language pathologist (SLP) at Mary Cariola Children's Center in Rochester, New York, she couldn't have asked for a better career path.
She obtained her Bachelor's degree in Communication Sciences & Speech Disorders, but decided to take a break to raise her family, returning to obtain her Master's and certification almost a decade later.
Once she did, Drees began working at Mary Cariola Children's Center and immediately knew she had found her home.
"I knew I wanted to work in the schools," she said, and the opportunities Mary Cariola provided fit the bill. "The children here are just the best."
Many of the students in her one class are "medically fragile," she noted, but she is also able to work with a wide variety of students whom keep her challenged.
Working alongside a certified PECS implementer on her caseload, Drees is no stranger to augmentative and alternative communication (AAC). In fact, she has used many types of devices and methods.
"I love all the choices," she said.
But winning a PRiO from Prentke Romich Company is a great opportunity, and it's a device that she's excited to work with.
The PRiO from PRC is an iPad-based communication device, fully loaded with the LAMP Words for Life app. In addition, the PRiO comes with product support, training – the full range of PRC's capabilities.
It's a new addition to the company's array of speech-generating devices – and Drees is no stranger to them.
"I have one student this year that has a new PRC device," she said However, working with the PRiO will allow her to learn more about the products and services PRC has to offer, and Drees is excited at the prospect.
Congratulations once again to our ASHA drawing winner, Josette Drees. We hope you enjoy working with your new PRiO!
About PRC
PRC is a global leader in the development of AAC solutions, including augmentative communication devices, computer access products and other assistive technology for people with speech disorders. A 100% employee-owned company headquartered in Wooster, OH, PRC pioneered the use of technology to bring speech and language capabilities to adults and children with disabilities nearly 50 years ago. Since then, the company's products have enabled children and adults worldwide to achieve spontaneous, independent, and interactive communication regardless of their disability, literacy level or motor skills.
In addition to powerful AAC devices, PRC provides teaching and implementation ideas, therapy materials, curriculum sequences, funding assistance and training to speech-language pathologists, special educators and the families of AAC communicators.
For more information, call 800.262.1984, ext. 1268.
About Mary Cariola Children's Center
Mary Cariola Children's Center serves children in Rochester, NY, with multiple, complex disabilities when public and private schools aren't able to accommodate them. It was founded in 1949 by Mrs. Mary A. Cariola, along with parents and friends of children with significant disabilities.
Over the years, the Center has evolved from a day care to a nationally renowned agency that strategically maps out a customized plan—clinically and educationally—for every child who walks through their doors. They offer day programs, residential programs, specialized therapy, privacy practices and more.
For more information, visit marycariola.org or email Joanne Fisher at jfisher@marycariola.org.
---

News and Updates
---