Congratulations Barry!
PRC is proud to announce that our own Barry Romich was honored Oct. 10 by the Wayne County Communication Foundation (WCCF) as this year's recipient of the Friend of Philanthropy Award.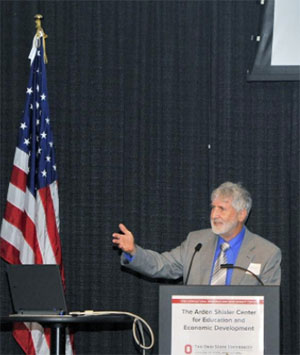 According to the WCCF website, the award "recognizes the difference that individuals and families can make through personal commitment and leadership."
Romich was recognized for his tremendous efforts in supporting a wide variety of schools and nonprofit organizations throughout Wayne County.
"What we have is excellent. It doesn't stay that way without involvement from the community. We all have an obligation to give back what we can," said Romich.
Past recipients of the award have included former business executive Stan and Flo Gault; the J.M. Smucker Family; former Wooster Rubber Company/Rubbermaid CEO Don and Alice Noble; and former Wooster Area Chamber of Commerce chairman and businessman Greg and Kathy Long.
About the WCCF
Since 1978, the Wayne County Community Foundation has been working to strengthen the community we all share. It is a nonprofit charitable community organization. Since inception, WCCF has returned more than $66.8 million in grants and scholarships to the community. For more information about the Foundation call 330.262.3877 or visit www.WayneCountyCommunityFoundation.org.
Learn more
---

News and Updates
---