Learning Outcomes
Participants will learn to:
adjust voices and text size
customize the device to meet an individual's needs
save the device customizations
lock the toolbox
list available resources and support materials
Agenda
5 minutes - Introduction
5 minutes - PASS software
5 minutes - Exploration Wizard
5 minutes - Switching between user areas
20 minutes - Making adjustments in the toolbox: change voice, change pronunciation, change text size, change access method, and locking the toolbox
20 minutes - Customizing Unity 1-hit: customizing keys and limiting vocabulary
40 minutes - Customizing Unity Sequenced: Vocabulary Builder demo, icon tutor, creating an activity, and making and linking pages
5 minutes - Vocabulary Backup
15 minutes - Resources, Summary, and Questions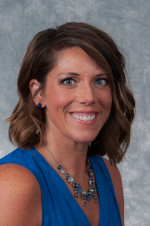 Gretchen Bright, B.S.
Gretchen graduated from Southern Illinois University in Edwardsville with her Bachelor of Science degree in Speech Language Pathology and Audiology. Before joining PRC, she worked as a speech language pathology assistant at a habilitation center which housed an adult population with varying degrees of mental retardation and developmental disabilities. During her time at the habilitation center, Gretchen worked with various types of augmentative communication. She worked closely with the psychology department to help reduce behaviors in consumers through their use of communication and helped to decrease the frustration associated with the inability to communicate. Gretchen prepared various AAC strategies, developed low tech solutions and programmed AAC devices for consumers. While at the habilitation center, Gretchen also had the opportunity to implement therapy for these various forms of alternative and augmentative communication.

Gretchen is a member of the International Society for Augmentative and Alternative Communication (ISAAC).
Financial: Gretchen Bright is a salaried employee of the Prentke Romich Company.

Nonfinancial: Gretchen Bright is an employee-owner of the Prentke Romich Company and is a member of the International Society for Augmentative and Alternative Communication (ISAAC).
ASHA CEUs
Instructional Level
Content Area
Submission Deadlines
Live online classes:  Participants wanting ASHA CEUs must be registered, "join" the class through his/her unique confirmation email letter, participate for the entire duration of the class, and pass a post-test with 80% accuracy or higher. No partial credits will be submitted. Participants have 15 days to submit all ASHA paperwork to PRC. ASHA paperwork received after 15 days will not be accepted.

In-person classes:  All ASHA paperwork must be submitted to the presenter by the end of the training day.
ASHA Information
Participants wanting ASHA CEUs for a multiple day training must attend all days. In addition, if there is a registration fee associated with the class and payment is not received, PRC will not submit your request for ASHA CEUs.

An annual ASHA CE Registry fee is required to register ASHA CEUs. ASHA CE Registry fees are paid by the participant directly to the ASHA National Office. The annual ASHA CE Registry fee allows registration of an unlimited number of ASHA CEUs for the calendar year. Contact the ASHA CE staff at 800-498-2071 ext. 8591 for CE Registry fee subscription information: www.asha.org

The Prentke Romich Company (PRC) licenses a patented technology that is in PRC products trademarked as Accent™, PRiO™, NuEye™, and NuPoint™, as well as software Unity®, Essence™, CoreScanner™, UNIDAD™, LAMP Words for Life™, and our Language Acquisition through Motor Planning™ (LAMP) approach. PRC also has registered two websites, Realize Language™ and AAC Language Lab™. Because there are no other like-kind products available, course offerings will only cover information that pertains to the effective and safe use of the above-named products.

This presentation will focus exclusively on Accent, PRiO, NuEye, NuPoint, Unity, CoreScanner, Essence, UNIDAD, LAMP Words for Life, Realize Language, or AAC Language Lab and will not include information regarding other similar or related augmentative and alternative communication (AAC) devices or software.

Most of our presenters are salaried, employee-owners of the Prentke Romich Company. A few of our presenters are contracted presenters.
GotoTraining System Requirements
To test your connection from a computer or mobile device before your training:
Click on this link, https://www3.gotomeeting.com/join/406552062.  This is a TEST ONLY.
You will see a dialogue box says "GoToMeeting - CONNECTION TEST ONLY."  If you get this dialogue box you will be able to successfully access the class on the date of your class.
Close the dialogue box.
To join the actual class, click on the "JOIN" button in your confirmation email on the specific date of your class.

For PC-Based Organizers and Attendees
Required: Windows® 7, Vista, XP, 2003 Server or 2000 (Linux is not supported)
Required: Internet Explorer® 7.0 or newer, or Mozilla® Firefox® 3.0 or newer, or Google™ Chrome™ 5.0 or newer (JavaScript™ and Java™ enabled). If needed, download Java here.
Recommended: Minimum of Pentium® class 1GHz CPU with 512 MB of RAM (2 GB of RAM for Windows Vista)
For Mac-Based Organizers and Attendees
Required: Mac OS® X 10.4.11 (Tiger®), OS X 10.5 (Leopard®), OS X 10.6 (Snow Leopard®)
Required: Safari™ 3.0 or newer, or Firefox 3.0 or newer; Chrome™ 5.0 or newer (JavaScript and Java enabled)
Required: PowerPC G4/G5 or Intel processor, 512 MB of RAM or better recommended