Earlier this year, we received a call from someone representing The Eric Fund; would we be interested in helping a young man receive a device?
Of course we would.
Overcoming Multiple Adversities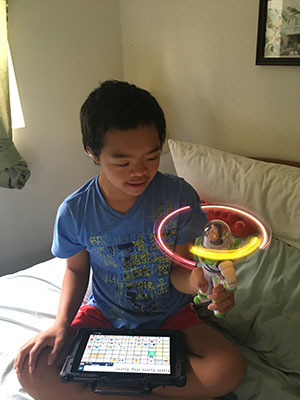 At 14, James has endured more than any young boy should.
He has undergone two open-heart surgeries and a bone marrow transplant, and is currently in remission for Acute Lymphoblastic Leukemia. In addition, he lost his mother to cancer three years ago, leaving his father as his primary caregiver.
Due to hearing loss in both ears and limited verbalization skills, James had been using the LAMP Words for Life app on his iPad to communicate as best he could. However, this solution was far from ideal; while the LAMP Words for Life app was helping him gain the ability to express himself, progress was slow, with the iPad limiting his opportunities to participate in conversations when using the device for any other purpose. He needed a device dedicated solely to communication.
James was nominated for the grant from The Eric Fund by his speech-language pathologist, who believed that the Accent 1000 with the LAMP Words for Life language system would help reduce James' frustration and support additional language learning.
It would give him a way to communicate in all settings throughout his day, improve his social connections, learning opportunities, and ability to express his wants and needs.
Giving James a Voice
The Eric Fund is a Washington, D.C.-based organization that purchases needed but often expensive assistive technology and equipment to help children and adults with disabilities live on their own terms in the community.
On May 1, the organization held a silent auction to help raise money to fund a device for this year's recipient, raising a total of $5,295 towards the purchase of an Accent 1000.
Since the amount raised was the maximum amount that The Eric Fund is able to award any one applicant, PRC happily donated the remaining amount, allowing the grant to go through.
Allowing James to have a voice.
---
About The Eric Fund
The Eric Fund, a Washington, DC-based nonprofit, was established in memory of Eric C. Savader, a disability rights advocate who died of cancer in 1997.
Since its inception in 1998, The Eric Fund has been helping individuals with disabilities live, work, go to school and participate actively in community life in and around Washington, D.C.
The goal is to help children and adults with disabilities in the Washington, DC, metropolitan area lead more independent, productive lives by purchasing assistive technology not covered by insurance or other funding streams. Each year The Eric Fund awards grants to deserving individuals based on financial need.
An all-volunteer effort, nearly 100% of donations to the fund goes toward the purchase of equipment for their grant winners.
---

Blog
---